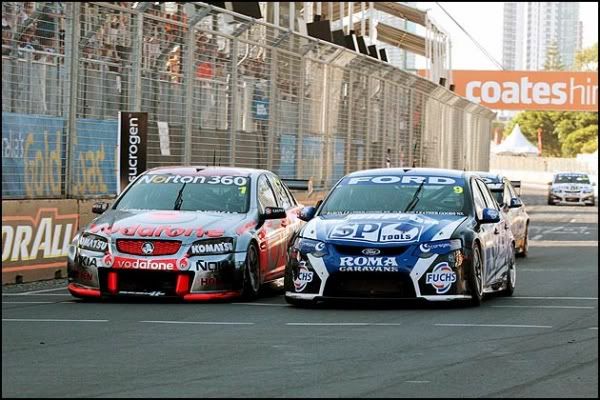 As you may already know, we are in the process of arranging an inter club V8 series.
This was originally going to be between Flatout and Mara but thanks to an introduction to
http://www.core-racing.co.uk/
from Andy Roberts and with upcoming talks with Simracers.PL we hope to have four teams fighting for the title.
We are planning a test race using Mara E's server on Wed 12th of Sept to test the server for large driver numbers and to get a chance for all teams to test the format together.
We would very much appreciate it if you could try and take part in the test race, as well as wetting your appetite for whats to come it will also help test the server for high numbers.
The test race details are the following:
Wednesday 12th Sept
V8 Unleashed V1.1 using 2011 cars
http://www.rfactorcentral.com/detail.cf ... 0Unleashed
or
http://www.virtualr.net/v8factor-unleas ... -released/
Track: Ledenon light:
http://www.rfactorcentral.com/detail.cf ... denon_2008
Server: Mara Europe
Official practice: 19:00hrs (UK time) – 60 minutes
Qualifying: 20:00hrs (UK time) – 20 minutes
Warm-up: 20:20hrs (UK Time) – 10 minutes
Race : 20:30hrs (UK Time) – 60 minutes (Mandatory pitstop for all 4 tyres)
Server settings: Race start time (in game) 1200hrs * 2 accelerated time
Tyre and fuel set to default
Time scaled failures
Auto gearbox will be allowed
All races will be a standing start.
Black flags only
No forced cockpit view
No TCS
No ABS
TRACK PARAMETER RULING: "NO CUTTING" - "KEEP AT LEAST TWO WHEELS ON TRACK AT ALL TIMES"
Hope to see you there.
FO Admin
>>>>>>>>>>>>>>>>>>>>>>>>>>>>>>>>>>>>>>>>>>>>>>>>>>>>>>>>>>>>>>>>>>>>>>>>>>>>>>>>>>>
DRIVERS AVAILIBLE FOR TEST RACE: (Max drivers 10 per team or a combined total of 40)
FLATOUTCLUB
Adam Shaw
Tom Ilsbroux
Vlad Moudretski
David Clark
Henk Van Der Meulen
Risto Kappet
Kevin Clark
Quicksilver384
Iain Wilton
CORE RACING
Darren Adams
Heinz Petzold
Simon shepherd
Graham Kerr (Reserve)
Luka Peklaj
Carl Adams
MARA-E
Tudor Morris
Clive Loynes
SIMRACERS.pl
Tomasz Kawecki
Robert Jablonski
Niko Leinonen
Lukasz Krawczuk